services
In-Home Carpet and Upholstery Cleaning
We have 7 different methods for carpet and upholstery cleaning, depending on the fabric and condition. You can choose our standard, deluxe, or premium service. We use a higher-quality product called Chemspec™, which is leading the way in the cleaning industry. We also use Pro's Choice™, a cleaning product for urine and specialty stain removal. Our Quick Dry™ system takes no more than 24 hours to dry.
Standard Cleaning Service - (Basic Service) Includes pre-vacuum, pre-spray, hot water extraction cleaning,rinse agent and small amount drying
Deluxe Cleaning Service - (Better) Same as Standard, but with application of carpet protector
Premium Cleaning Service - (Best) Includes all of the above services, plus deodorizer and application of carpet protector: DuPont ADVANCED CARPET PROTECTOR.
WE OFFER A ONE YEAR WARRANTY (OPTIONAL)

Oriental Carpet Cleaning
We are the specialists in Oriental rug cleaning. With an initial consultation and inspection, all concerns about the rug are discussed prior to treatment. We'll give you a free estimate, and our service charge for cleaning is based on the size of the rug and its needs. We can pick up and deliver your rug, and any repairs needed will be subcontracted out to professionals.
Upholstery Cleaning
Specializing in natural fabrics like cotton, Haitian cotton, silks, and polyesters, we service your home, auto, RV, bus, commercial vehicles, or office. With a free consultation prior to service, we'll pre-inspect, pre-vacuum, and then do a spot removal and cleaning with our state-of-the-art machines, allowing for a quick dry time.

Leather Cleaning
Specializing in all leather cleaning, we do upholstery, auto interiors, leather furniture, RVs, and tour buses. Leather apparel may be referred out to professional dry cleaners.
Grout & Tile Cleaning
Our state-of-the-art tile cleaning process involves pressure washing, cleaning, and Sealers. New for 2008 AQUA MIX GROUT COLORANT- We Recolor, Seal & Prevent Stains. It rejuvenates your grout. Photo on right shows before and after results.


Hardwood Floor Cleaning
Wood floors need special care. At Edmonson, we have specially trained and certified technicians who will clean and restore your wood floors to their original, natural beauty. We use only the best and most professional of wood restoration products. Call us for an inspection and personal quote.

Property Cleanup & Management
At Edmonson, we understand how important it is for you is to have your property professionally cleaned and checked. Whether you are moving in or out of your property or you have one rental or have many rentals and need a reliable company to thorough deep clean your properties, please contact us and ask about our property cleanup and property management cleaning services.Book this service with us and you can rest assured that every square inch of your property will be professionally cleaned and polished.

Water & Structural Damage
At Edmonson, we understand the stress that flooding and water damage can cause a homeowner. We also know that time is of the essence, and that's why we offer round the clock emergency services to repair and contain water damages. Whether it's a flood, leak or burst pipe, water damages can't wait until morning. The longer water sits on your carpets and upholstery, the larger the danger to your health. Edmonson's team of trained experts will be ready with top of the line equipment to extract water from your carpeting and upholstery, and special drying agents to ensure complete water removal.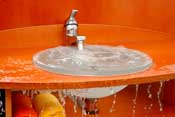 Water leaks or spills are very common. Immediate inspection of floor coverings, structural materials and crawl spaces, as well as prompt removal of all standing water, is critical to reduce or eliminate structural damage and/or mold. After all standing water has been removed, the structure must be thoroughly dried to prevent moisture damage or mold growth. Homeowners sometimes remove standing water themselves, then neglect to have the area professionally dried because the surfaces look dry or feel "dry to the touch." However, without the proper equipment, it is impossible to determine how much moisture is still within the structure or to draw that moisture out before it cultivates mold or causes other structural damage. Increased moisture in the air after an indoor flood can cause "secondary" damage to decorative wood, books, artwork and other items, so thorough drying and dehumidification is critical.
Our On-Site Emergency Equipment Includes...
Air Movers
Dehumidifiers
Water Extraction Van
Ozone Equipment
On-site Ozone Room
Climate Controlled Storage Van
All Insurance Repairs Including...
Asphalt / Concrete
Carpentry
Decks
Electrical
Floor Coverings - Carpet, Vinyl, Wood & Tile
Furnace Service & Repair
General Building Maintenance
Gutters
Painting
Remodeling Projects
Roof / Attic Ventilation
Roofing
Room Additions
Siding
Window & Door Maintenance
Stain Removal and Pet Odor Neutralization
We can help you with pet stain removal, and any other stain or odor removal, so that your carpets and upholstery are looking great and smelling fresh again. You'll feel comfortable and proud of your home once more—when you are free of pet stains and odors.

Our cleaning experts use advanced stain removers that will completely eliminate stains without harming your valuable carpets and furnishings. The result? A cleaner looking and fresher smelling home in which you can welcome your guests with confidence.